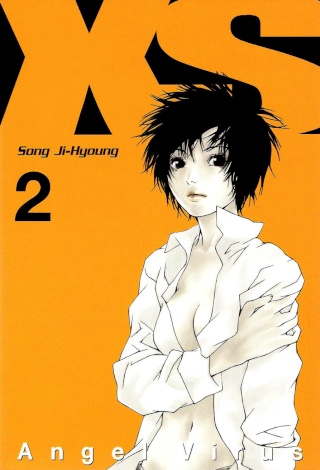 Mangaupdates link:
http://www.mangaupdates.com/series.html?id=6149
Synopsis:
In a strange future where gifted, "hybrid" humans police the planet, Mina is a likeable tomboy with growing psychic powers. When a young boy falls into a coma after gazing into her eyes, it's clear that there's more to Mina than her pretty looks. This young boy, Inchang, grows up to be quite a daredevil, and his awkward, secret love for Mina fuels his protective fire when mysterious men arrive, bringing the violence of the "hybrid" world with them!
Notes:
This is a joint project with HAO.
If you want to download, you'll have to be logged in. If you find any links that are down, please let us know, so we can upload them back again. Also I was told that you have to post 1 time to be able to download, not sure if it's true.
As of now 08.07.2017 XS is finally finished.
Mediafire folder for Ascension releases:Volume 01
Chapter 001 - Scanlated by Manga Underground:
Chapter 002 - Scanlated by Manga Underground:
Chapter 003 - Scanlated by Manga Underground:
Chapter 004 - Scanlated by Manga Underground:
Chapter 005 - Scanlated by Manga Underground:
Chapter 006 - Scanlated by Manga Underground:
Chapter 007 + Omake - Scanlated by Manga Underground:
Volume 02
Chapter 008 - Scanlated by Manga Underground:
Chapter 009 - Scanlated by Manga Underground:
Chapter 010 - Scanlated by Manga Underground:
Chapter 011 - Scanlated by Manga Underground:
Chapter 012 - Scanlated by Manga Underground:
Chapter 013 - Scanlated by Manga Underground:
Chapter 014 + Omake - Scanlated by Manga Underground:
Volume 03
Chapter 015 - Scanlated by Manga Underground:
Chapter 016 - Scanlated by Manga Underground:
Chapter 017 - Scanlated by Manga Underground:
Chapter 018 - Scanlated by Manga Underground:
Chapter 019 - Scanlated by Manga Underground:
Chapter 020 - Scanlated by Manga Underground:
Chapter 021 + Omake - Scanlated by Manga Underground:
Volume 04
Chapter 022 - Scanlated by Manga Underground:
Chapter 023 - Scanlated by Manga Underground & HAO:
Chapter 024 - Scanlated by Manga Underground & HAO:
Chapter 025 - Scanlated by Manga Underground & HAO:
Chapter 026 - Scanlated by Manga Underground & HAO:
Chapter 027 - Scanlated by Manga Underground & HAO:
Special - Scanlated by Manga Underground & HAO:
Volume 05
Chapter 028 - Scanlated by Ascension & HAO:
Chapter 029 - Scanlated by Ascension & HAO:
Chapter 030 - Scanlated by Ascension & HAO:
Chapter 031 - Scanlated by Ascension & HAO:
Chapter 032 - Scanlated by Ascension & HAO:
Chapter 033 - Scanlated by Ascension & HAO:
Chapter 034 - Scanlated by Ascension & HAO:
Chapter 035 + Omake - Scanlated by Ascension & HAO:
Last edited by Admin on Sat Jul 08, 2017 12:17 pm; edited 9 times in total