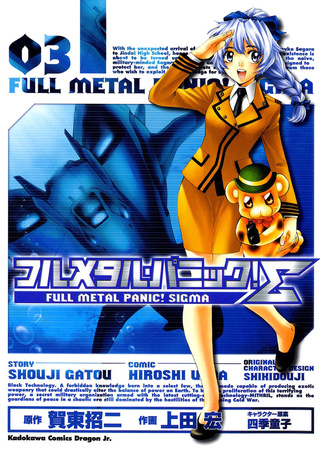 Mangaupdates link:
https://www.mangaupdates.com/series.html?id=913
Synopsis:
Following the Tuatha de Danaan's seajacking incident, things are back to normal at Jindai High School in Tokyo, or as normal as they get with Sousuke guarding Kaname. After finding out who betrayed Mithril and caused the seajacking incident, Kurz and Mao are sent on a top secret mission in order to capture and bring the traitor back.
However, Sousuke and Kaname's lives are about to change when they meet Leonard Testarossa, a high ranking member of a mysterious group named Amalgam. After their meeting, Leonard warns her that he would do anything to recruit her even if it means war in the streets of Tokyo.
Notes:
This project was among the first stuff that we did, so the quality of the release is in my opinion pretty low, my suggestion is to download the volumes from Illuminati-Manga. So, we will post only our releases here. This project was completed by Illuminati-Manga.
If you want to download, you'll have to be logged in. If you find any links that are down, please let us know, so we can upload them back again. Also I was told that you have to post 1 time to be able to download, not sure if it's true.Mediafire folder for Ascension releases:Volume 01
Chapter 001 - Scanlated by Ascension:
Chapter 002 - Scanlated by Ascension:
Chapter 003 - Scanlated by Ascension: