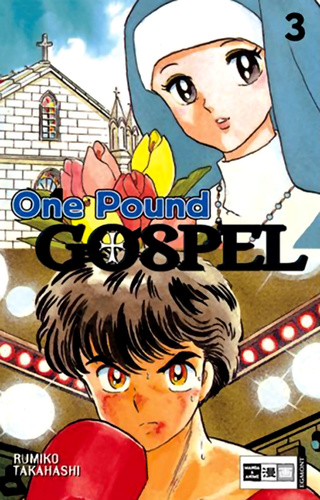 Mangaupdates link:
https://www.mangaupdates.com/series.html?id=1231
Synopsis:
Kosaku Hatanaka is the first pro boxer ever produced by Mukaida's Gym. He's also the bane of his coach's existence. Although he's constantly waging war against his appetite, Kosaku never met a meal he didn't like! Naturally, this plays havoc with his weight class. Junior bantamweight, bantamweight, junior featherweight... every time he moves up a class, his coach's hopes plummet. Isn't gluttony a sin?
Sister Angela is a young novice nun who's dedicated, passionate, and convinced that we should give peace a chance. Although she refuses to acknowledge it, it's obvious that Kosaku comes to St. Mary's for more than confession! He comes to see the smile of the beautiful sister, of course! Can her faith redeem the gluttonous appetite of the tempted lamb astride the scale?
Notes:If you want to download, you'll have to be logged in. If you find any links that are down, please let us know, so we can upload them back again. Also I was told that you have to post 1 time to be able to download, not sure if it's true.
This project was completed by KickTheKitty, so we're not going to continue releasing this project.
Mediafire folder for Ascension releases:Volume 01
Chapters 001-009 - Scanlated by MangaProject:
Volume 02
Chapters 001-010 - Scanlated by MangaProject:
Volume 03
Chapters 001-009 - Scanlated by MangaProject:
Volume 04
Chapter 001 - Scanlated by Ascension:
Chapter 002 - Scanlated by KickTheKitty:
Chapter 003 - Scanlated by KickTheKitty:
Chapter 004 - Scanlated by KickTheKitty:
Chapter 005 - Scanlated by KickTheKitty:
Chapter 006 - Scanlated by KickTheKitty:
Chapter 007 - Scanlated by KickTheKitty:
Chapter 008 - Scanlated by KickTheKitty:
Last edited by Admin on Sun Jul 09, 2017 8:12 pm; edited 5 times in total