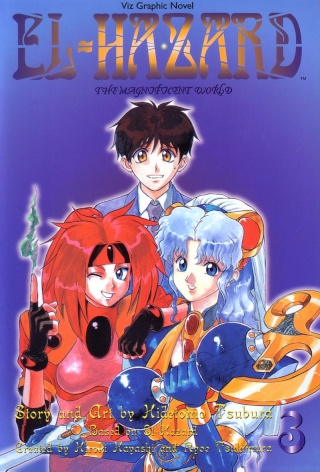 Mangaupdates link:
CLICK HERE.
Synopsis:
The story focuses on four people from our world (High school students Makoto Mizuhara, Katsuhiko Jinnai and Nanami Jinnai, and History teacher Masamichi Fujisawa) who are mysteriously transported to the fantastical world of El-Hazard, which is threatened with a massive war between the human nations on one side and the insectoid Bugrom tribe on the other.
Notes:
We're doing this project with the help of the french scanlations done by a french group called Fuyunoyo, so raws and translations are thanks to them.
Due to me being extremely busy, i had to give away the project. The project was finished by Arcknight from ARC manga.
If you want to download, you'll have to be logged in. If you find any links that are down, please let us know, so we can upload them back again. Also I was told that you have to post 1 time to be able to download, not sure if it's true.Mediafire folder for Ascension releases:
Volume 01
Chapter 001 - Scanlated by Anonymous:
Chapter 002 - Scanlated by Anonymous:
Chapter 003 - Scanlated by Anonymous:
Chapter 004 - Scanlated by Anonymous:
Chapter 005 - Scanlated by Anonymous:
Volume 02
Chapter 006 - Scanlated by Heidi-Scans:
Chapter 007 - Scanlated by Heidi-Scans:
Chapter 008 - Scanlated by HAO:
Chapter 009 - Scanlated by Ascension:
Chapter 010 - Scanlated by Ascension:
Volume 03
Chapter 011 - Scanlated by ARC manga:
Chapter 012 - Scanlated by ARC manga:
Chapter 013 - Scanlated by ARC manga:
Chapter 014 - Scanlated by ARC manga:
Chapter 015 - Scanlated by ARC manga: